The ten-day celebrations of Onam start on Atham by putting Flower Carpet (Arts by flowers) in front of house. It is also known as Onapookkalam, Pookkalam and Aththa-Poo'. 'Pookkalam' consists of two Malayalam words; 'poov' meaning flower and 'kalam' means colour sketches on the ground. Pookkalam is extremely popular in Kerala and is followed as a ritual in every household during the ten-day-long Onam celebrations to receive the King Mahabali.
The traditional Onapookkalam is made out of the gathered blossoms with many varieties of foliage of differing tints pinched up into little pieces to serve the decorator's artistic talent. It is a beautiful work of art accomplished with a delicate touch and a highly artistic sense of tone and blending.
Year by year Onam festival gets more and more popular and the position and pattern of pookkalam shifted from front of house to public places and size from one sq. foot to thousands of sq.feet. Now many organizations, leading business groups or even religious institutions are organizing Floral Carpet Competitions and awarding prizes.

Click on image to view larger image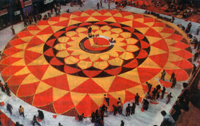 The Kochi City policemen have come up with a record breaking Pookkalam, named Janamaithri pookkalam and this 12,000 sq.foot floral carpet was created by 140 police men by 3.5 hours at Rajeev Gandhi Indoor Stadium , Kochi. It is said to be the biggest floral carpet made ever. The officials from the Limca Book of World Records were also present at the function.