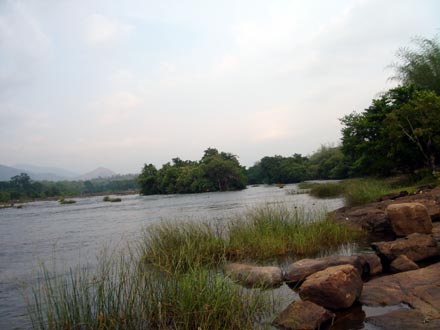 Paniyely locally known as Pooru is about 14 km from Kuruppampdy and 60 km from Cochin (Kochi). In spite of its shortcomings and relative inaccessibility, Paniyely is a must visit destination for those who cherish nature, peace and tranquility. Paniyely is where the river Periyar comes in touch with human habitation after flowing between densely forested areas beyond Kothamangalam. The private bus operators insufficiently service Paniyely.

Paniyely is one of the important places in the tourist map of Kerala, India and different tour packages are available with various tour operators.
The banks of the river above the cataracts are reserve forest land. Both the banks are thickly wooded till just near the water line and the river flowing turbulently between these forests is a worthy view. The southern shore of the river is an ideal picnic spot.
The shade provided by the bamboo groves and majestic ethnic trees, the vistas of the river and the forests and the distant mountains, the cool river breeze and the majestic silence of the environs contribute to making the riverside at Paniyely a superb destination for a daytime getaway.
Swimming in the river is not recommended. The river bed is mostly rock and unexpected narrow but deep shafts on the river bottom makes wading into the river a risky preposition. Breaking a leg is not ruled out!